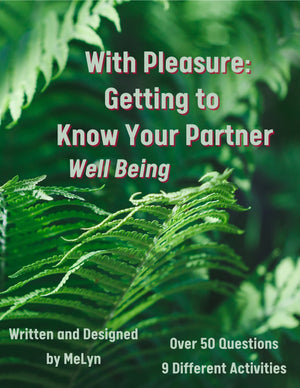 With Pleasure: Getting to Know Your Partner - Well Being Workbook (PDF)
Sale price Price $17.95 Regular price Unit price / per
*Digital Download*
Wanna know more about a special someone in your life?
With Pleasure: Getting to Know Your Partner - Asking complicated questions with compassion, the Getting to Know You Series is the ultimate guide for starting those important, but difficult conversations.
The Getting to Know You Series are thought-provoking themed workbooks featuring interactive prompts and activities. Workbooks are designed to help you sort through your perspective and develop compassionate approaches to conversations with folks you care about. 
With Pleasure: Getting to Know Your Partner gives you a chance to figure out what you mean to make sure it's what you say. Each workbook focuses on a Subject then breaks into 5 Topics. There are 10 different activities to explore! With over 50 questions per workbook, you're sure to gain the confidence you need to start that long-overdue conversation.


Topics Include:
Eating Habits
Body
Mind
Sleep
Unhealthy Habits
Product Details
ISBN-13: 978-1-956857-04-7
Publisher: Small Mercies Creative Productions LC
Publication Date: November 11, 2021
Pages: 184
Product Dimensions: 8.5" x 11"
Downloadable Content Disclaimer
You will receive a separate email containing your download link after purchase. We DO NOT recommend downloading this file on a phone due to file size. You will only be allowed to download one copy of this file, however, as the file is a PDF, you will be able to transfer your active copy to different personal devices.